Daily Life
Hokkaido / Sapporo Introduction / Living Cost
Hokkaido
Hokkaido is Japan's northernmost prefecture with the nation's largest land area. It accounts for 22 percent of the nation's total area, and has numerous areas with untapped natural beauty and magnificent scenery thanks to its low population density. Its vibrant agriculture, fisheries and dairy farming industries have been supported by its rich natural environment, which includes high-quality water resources and clean air. Today, the prefecture's food self-sufficiency ratio is approximately 200 percent. Leveraging locally produced ingredients, Hokkaido's food culture and food industry are recognized as a brand by consumers.
Hokkaido has numerous popular tourist destinations with picturesque landscapes like Furano, Biei and Shiretoko. Unlike other parts of Japan, this northern land has no rainy season and is rarely affected by typhoons. It is also known for its refreshing summer characterized by low temperatures and humidity.
Hokkaido abounds in national parks and popular hot spring resorts, allowing visitors to enjoy and relax in its splendid natural environment. The number of tourists visiting Hokkaido has been noticeably increasing every year because it is an appealing tourist destination visited multiple times even by Japanese tourists.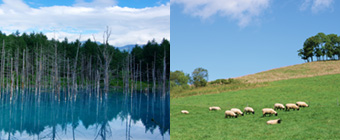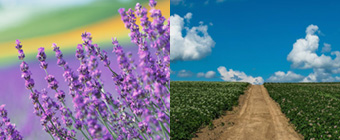 Hokkaido Official Tourism Website
https://en.visit-hokkaido.jp/
Sapporo
Located in the midwestern part of Hokkaido, Sapporo is the fifth largest city in Japan. Known as the capital of Hokkaido and the host of the 1972 Winter Olympic Games, it serves as the entrance to Hokkaido and as a major city in Japan. The city also enjoys exchanges with a variety of countries around the world.
Sapporo is known for having lower temperatures and humidity than other major cities in Japan although temperatures do rise in summer. From June to August, the city attracts a large number of tourists from across Japan and around the world. This is due to the city's refreshing climate during this period and popular events, which include the Sapporo Beer Garden, the YOSAKOI Soran Festival and the Bon Odori Festival (Summer Festival and Dancing).
Sapporo is a metropolis boasting superb convenience made possible because shopping districts, entertainment zones and residential areas are all located within close proximity of each other. The city's appeal also includes its harmonious combination of natural beauty and urban functions, allowing people to enjoy the beautiful natural setting of Hokkaido without traveling far from the city center. Lower commodity prices than those in other major cities in Japan also make Sapporo a great place to live.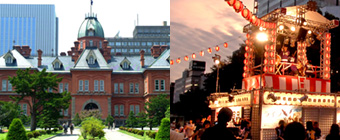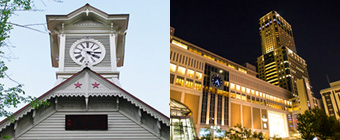 Fresh vegetables, fruits, dairy products and seafood produced across Hokkaido are available in Sapporo. Visitors can also enjoy nationally popular specialties of the city, which include ramen, Genghis Khan mutton barbecue, sushi and soup curry.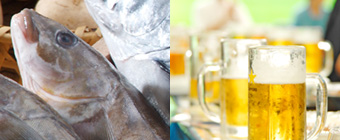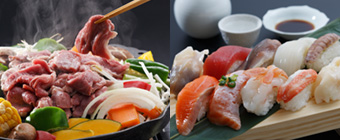 Welcome to Sapporo Website
https://www.sapporo.travel/en/
Attractions in Sapporo
JR Tower
Clock Tower
Sapporo TV Tower
Odori Park
Nakajima Park
Hokkaido Shrine
Living Cost
Hokkaido provides an excellent quality of life and a cost of living more reasonable compared with other major cities in Japan. Your budget will depend on the lifestyle you choose to lead (eating in restaurants or cooking at dormitory).
For more details on living cost and commodity prices, please refer to the website below.
Hokkaido Official Tourism Website
https://en.visit-hokkaido.jp/
→HOME > Travel Information > Practical Information